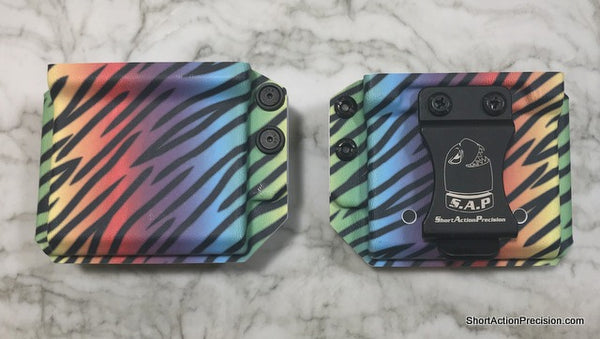 S
P
E
C
I
A
L
6
G
a
y
T
i
g
e
r
E
d
i
t
i
o
n
!
!
The SAP AMC is the result of the growing demand for a precision rifle mag holster that is flexible enough to fit most precision mags on the market. This holster has an adjustable tension system that will allow you to adapt the retention to most any magazine that you throw at it. It also has enhanced features like a flared opening for easy mag insertion, a bottom that is mostly closed to keep dust and dirt from entering, as well as a bumper system that is included for enhanced use with .22 mags and shorter mags like 5 round or AW double stack mags. 
Check out the Video Below to See All the Features!
Adjustable Tensioner for Wide Range of Mag Compatibility
Comes with 1.5" High Strength SAP Belt Clip
Option for an additional 1.75" Belt Clip 
Coyote, Black, and OD colors
Protects the rounds while in the holster
Comes with .22 Mag / Short Mag Bumper Kit
Easily Adjustable with 1/8" Allen (Not Included)
Made in USA
We have tested the following mags to work with this holster:
AICS 10 Round Single Stack (3902)
AW 10 Round Double Stack (7602)
AX 10 Round Single Stack  (6955)
AX 10 Round Double Stack (6677)
AICS 5 Round (3901)
AICS 10 Round .223 Mag
Accurate-Mag .308 (Long and Regular)
Accurate-Mag .223 
Accurate-Mag .300WSM/6.5PRC
ARC 10 Round
Bergara B-14R
Bergara B-14 Centerfire
Magpul .308 AICS Style Mags
MDT Metal 10 Round (Regular and No Binder)
MDT Metal 12 Round (Regular and No Binder)
MDT Metal BR/Dasher 12 Round
MDT Poly .308 10 Round Gen II
MDT Poly .223 10 Round * 
MDT Poly/Metal 10 Round *
Tikka CTR
Vudoo Poly Mags
Vudoo Aluminum Mags
Zermatt RimX
* MDT Poly .223 and Poly/Metal Mag fitment is depth limited to the protruding exterior ribs on the body of the mag. If more depth is desired, ribs would need to be shaved down.
Let us know if you have any other mags that you have tried with the AMC that are not on the list!