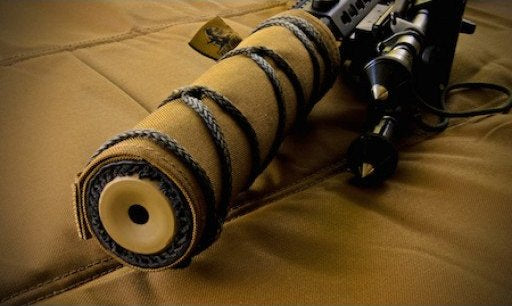 This product is unavailable
The Rifles Only Gear HAD (Heat Abatement Device) Suppressor Cover is a two part suppressor cover designed to greatly reduce suppressor induced heat mirage, and to help protect from burns on the hot surface as well. It's special inner core will take up to 3000 degrees sustained! It can take more heat than your suppressor will be able to take before it has a terminal failure! The outer sleeve will also take up to 2000 degrees and is interchangeable so that you can change the cover to go with the environment or whatever mood you are in. These are available in 6", 7", 7.5", and 9". These covers are designed to fit suppressors from 1.3" up to 2" in diameter.
PLEASE MEASURE YOUR SUPPRESSOR BEFORE ORDERING.  DO NOT USE THE SPECS OFF OF THE WEBSITE AS MANY TIMES THEY ARE WRONG.  IF YOU HAVE A QD MOUNT, DO NOT INCLUDE THAT IN YOUR MEASUREMENT AS YOU DO NOT WANT TO COVER IT.
Available colors are Multicam, Kryptec Highlander, and Coyote Brown, and Black. 
Made in USA